Per ardua ad astra

— The Manning family motto, meaning "Through adversity to the stars"
Sebastian Augustus Manning is the father of Axel Manning and a master of Jo-Lan. He also was a covert ops spy for the government, who worked closely with Alexander Paine and Janus Lee. When Axel recovered his father's diary, he found out that Lee was trading the government's project secrets for tons of money. Then the government reported someone was giving the secrets to someone else. Sebastian went undercover and caught Lee. Lee told him the truth, saying the it was the owner of the "Serpent's Tail" a.k.a. Dragon's master. Paine and Manning went into the nuclear room to fight him. However, Dragon's master was equipped with a bomb. The bomb went off, and Paine escaped. Paine's body was scarred and Sebastian Manning was labeled dead as a result. Dragon's master says Sebastian Manning is still living.
Throughout the show, Axel has dreams and memories of his father, most of them involve their Jo-Lan training together. Dragon also shares a connection with Axel's father, being that he knows who he is and knowledgeable and at least one Jo-Lan attack that only Manning knew. Though many, including Axel and Paine, think he's dead, there is no real clear answer if he is, or if he's alive.
During the final episode of season 2, Qiuan revealed that he is very much alive but only Qiuan knows his location.
Appearance
Edit
Sebastian is a middle-aged man of approximately 1.85 cm height with shoulder-length dark brown hair and blue eyes. The only physical difference between Sebastian and his son is Sebastian's arched nose. Apparently, like his son, he's very muscular.
In Axel's flashbacks Sebastian usually wears a white suit with a black t-shirt underneath and sunglasses. During the training sessions with Axel he wears a martial arts training suit in dark blue with orange hems.
Personality
Edit
Little is known about his personality since he only appears in Axel's flashbacks. He is a very caring and encouraging father who guides Axel into finding the answers to his questions. He is very intelligent, clever and wise, but also courageous and very loyal towards his comrades.
Relationships
Edit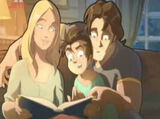 Axel Manning - Axel is his only child and student of the arts. He took very good care of him when he was a child and prepared him for different physical and mental challenges. He also left behind his journal so that Axel could find out the truth behind his father's disappearance.
Unknown wife - Axel's mother. Her name and her current whereabouts are unknown. She has long blonde hair and blue eyes.
Alexander Paine - Sebastian's partner when a federal agent. At first it seemed that Paine had betrayed Sebastian, but it has been revealed that it was Sebastian who protected Paine from the explosion and saved his life. Since Sebastian presumably died in that explosion, Paine was accused of having killed his partner.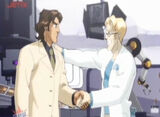 Janus Lee - Lee was the head of the Chrysalis Project which Sebastian was a security contact person of. He found out that Lee was selling government secrets to an organisation called "The Serpent's Tale", and the night he was confronting Lee about the matter, Lee told him not to dig into it and leave it be. But Sebastian decided to bust "The Serpent's Tale" and found their meeting place which they later blew up, presumably to destroy any evidence. After this incident Lee quit the project and blamed himself for Sebastian's death.
Abilities
Edit
Sebastian has been trained under Master Ji and can be considered a master of the arts himself. It is not known what level he reached since he is only seen using the blue spiritual power when training with his son.